Academia, research staff or student
If you are a researcher, a professor or a student interested in EU decision-making, we've got just the right opportunities for you.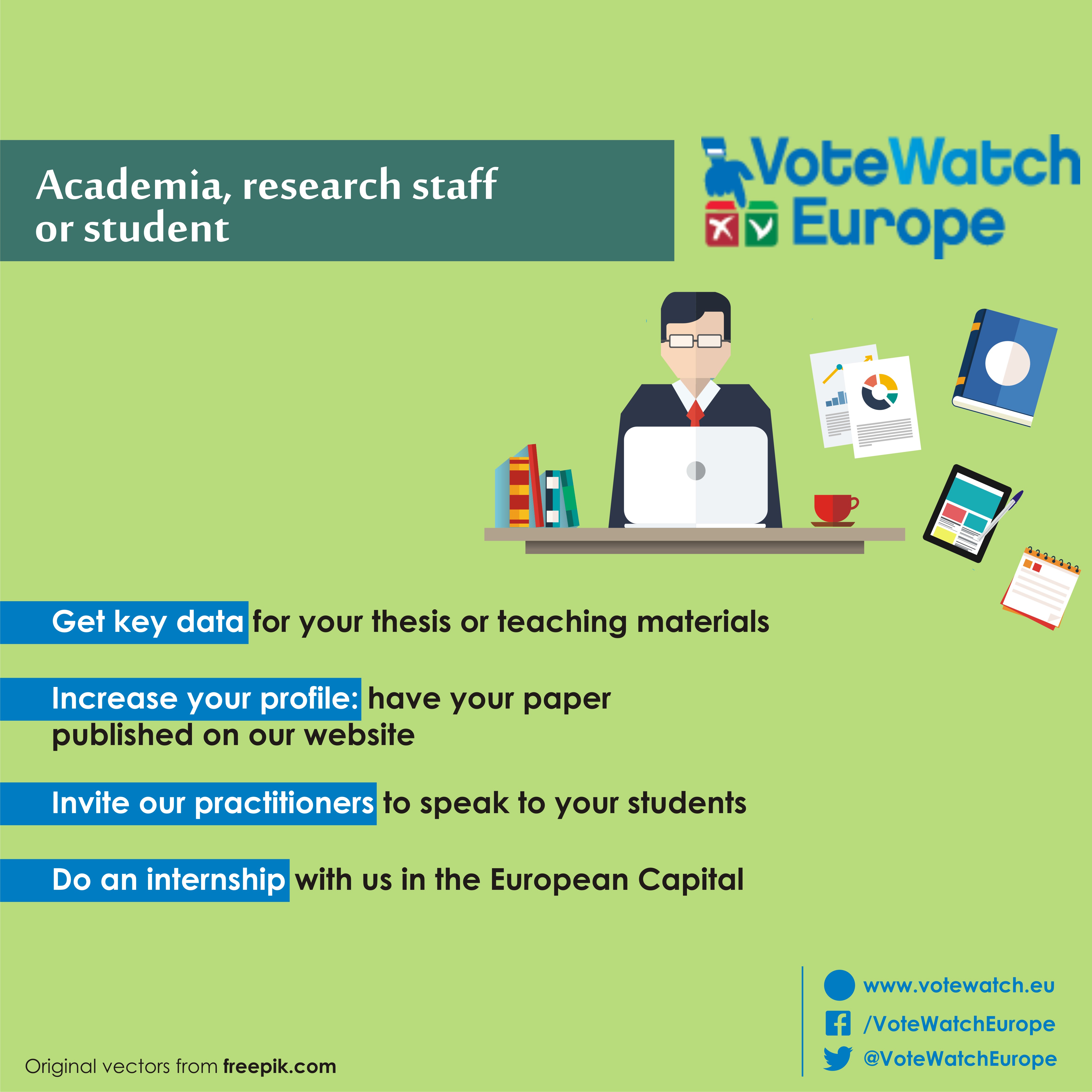 Get key data for your thesis or teaching materials
Over the years, hundreds of researchers have used our unique data to verify their working hypothesis for their books, (post)PhD, Master or BA thesis. We hold the data regarding all European Parliament plenary decisions since 2004 (how each MEP from all 28 EU Member States voted) and Council decisions since 2009 (how each government voted). We can provide you with pieces of this data or calculate a wide range of interesting stats for you, such as party cohesion, matching between various parties or MEPs, participation in votes, loyalty of individuals to their party line, comparisons between the votes of various governments on specific topics and much more. Here are a few examples.
Increase your profile: have your paper published on our website
If you have done a good paper using some of our data or information, we may publish it on our website, so that others can appreciate your work. Feel free to send us a synthesis of your work of no more than 3 pages (possibly with a link towards the whole paper). Be advised that we reserve the right to select the papers to be published according to our own evaluation and needs.
Invite our practitioners to speak to your students
Nothing compares to having an experienced practitioner provide real-time insights to your students on how the EU decisions are actually being made, beyond the theory of it. We have been invited by reputed Universities to discuss with their groups of students, either at our office in Brussels or at their headquarters (e.g. London School of Economics, College of Europe, HEC Paris, Free University of Brussels, Maastricht University, University of Madrid, University of Barcelona, University of Duisburg-Essen, etc).
Do an internship with us in the European Capital
We regularly take on board motivated students or graduates at the start of their professional career. If you're interested in an internship, find out more here.
If you are interested in any of these opportunities, contact us at secretariat@votewatcheurope.eu.