Stakeholder, campaigner / advocacy group
If you are a campaigner (company, trade federation, NGO, citizen group, etc), it is likely that you will be interested in one or more of these opportunities especially designed for you. If you are interested in any of them, contact us at secretariat@votewatcheurope.eu.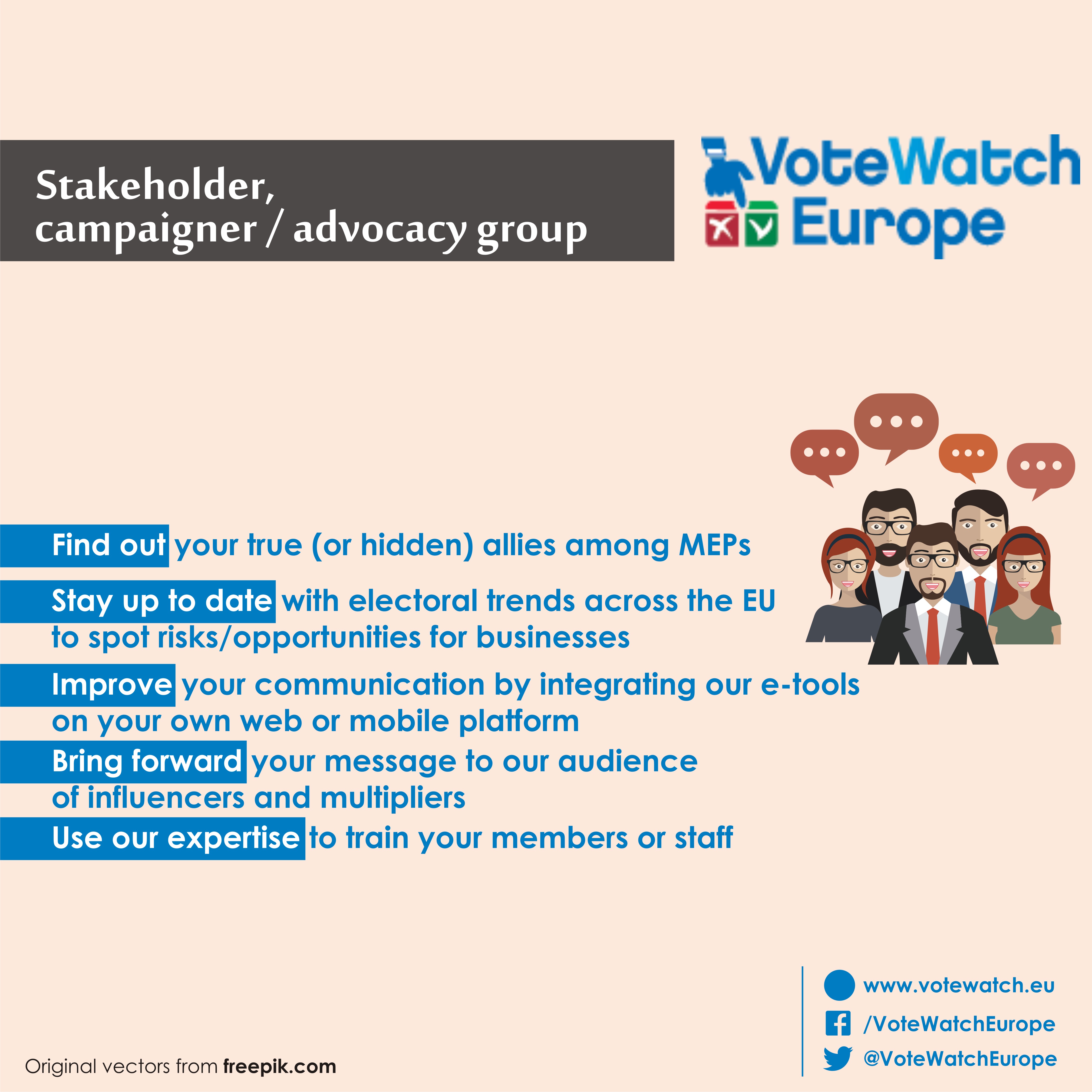 Find out your true (or hidden) allies among MEPs
Do you want to know which Members of the European Parliament match your points of view best so that you can rally them in your camp when you need allies for your advocacy campaigns? We can provide you with a genuinely objective scientific mapping, based not on statements, but on the analysis of millions of actual voting data records that shaped decisions.
Stay up to date with electoral trends across the EU to spot risks/opportunities for businesses
We track electoral developments in all EU's member states to predict the results of national elections and what the policies of the next government are going to be. We provide quick alerts or comprehensive analysis on how these would impact specific sectors/industries or legislative measures, depending on your needs. For example, we were the first ones to signal to the Brussels' EU affairs community the risks in the presidential race in Austria (April-May 2016) and its implications for the EU's policies.
Improve your communication by integrating our e-tools on your own web or mobile platform
Do you want to easily communicate to your members and audience what the EU Parliamentarians say and vote on your areas of interest? Our "Stakeholder widget" is an ideally designed tool that will help you keep them informed on EP's activities of your choice. Embed it on your website and it will automatically update information about plenary votes and parliamentary activities in your chosen areas of interest. It's an easy to manage tool that helps you save time and resources while keeping your audience updated in real time on relevant issues.
Click here for more information and here for an example.
The e-tools and web platforms can be customised according to your own needs. Get in touch with us for more details.
Bring forward your message to our audience of influencers and multipliers
Do you want to increase your profile and bring forward your message to the decision-makers and the multipliers? Our audience is just the right public for you, as it is made up of staff in the European institutions (European Parliament, Council and Commission), the media and other stakeholders who use the content of our website to understand the stakes and the meaning of EU decisions and policies, as well as to hold MEPs accountable for their work.
We already show millions of statistical information about the work of all MEPs, which the citizens and multipliers use daily. However, we acknowledge that the experts and the stakeholders know best what the meaning and the impact of these decisions are on the life of the citizens. So why not make sure that your view and expertise is also taken into account before one makes up its own mind?
Send us your views in the form of an opinion article or video (if you don't have a video, we can help you create one). Please be advised that we reserve the right to select the items for publication and we may charge a fee for this service.
Use our expertise to train your members or staff
Our predictions are probably the best there are in our sector, as we are in the unique position to base them on the analysis of millions of pieces of statistical data combined with cutting-edge expertise. Our work has been used by reputed media word-wide (CNN, New York Times, the Economist, Financial Times, etc), research institutes in more than 20 countries, over 50 federations and companies Brussels-based, as well as by decision-makers.
We are happy to share our knowledge to help your staff and members get a clearer view of the processes behind EU decisions, be it in the form of training, seminars or other formats which we can mutually agree to.